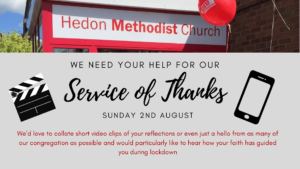 On Sunday 2nd August our online service will be a service with a difference…………….as we would like contributions from as many people as possible to help bring it together for our 'Service of Thanks'.
We'd like to collate short video clips of your reflections or even just a hello from as many of our congregation as possible and would particularly like to hear how your faith has guided you during lockdown,  any thoughts or feedback on our online services, or any other ways you have connected with worship. If you prefer, it could just be a greeting and anything you spent time doing during lockdown or what you valued as the world slowed down. Similarly, it may be what you have missed or what you are looking forward to. Maybe it could include the company of a pet or enjoying your garden. The service will comprise of the short clips alongside music and prayers and we hope will be a time for us all to gather and  reflect.
If you would like to send your films to Holly via whatsapp or messenger please – no more than 2 minutes per film and filmed in landscape. If you need any help, Holly can be contacted by email   harrisonh61@gmail.com – or tel 07713 997995. She would also be happy to do the filming over zoom with you. If you prefer not to be on film but would like to send in a written contribution that we can share, a photo, a song request or any contribution at all, we would love to hear from you. Can you send to Holly by Wednesday 29th July to enable us to collate it ready for the Sunday.
If you know of anyone who is not on email, or hasn't got the internet but would like to offer something, please do ask them to join with us. We can find a way to include them and our plan will be to share the service with everyone again in the future at church once it reopens.
We hope you can help us and look forward to sharing together on the 2nd August.
From us all at Hedon Methodist Church