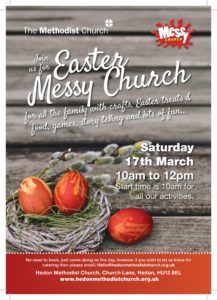 Morning worship at 10.30am every Sunday.
Evening informal worship 6.30pm.
Saturday 3rd March 10am – Community Coffee Morning
Saturday 4th March 10.30am Sunday Club for children during morning worship
Saturday 17th December 10am to 12pm. Easter Messy Church for all the family
Every Sunday at 10.30am morning worship
evening informal worship at 6.30pm
Saturday 7th April 10am – Opening of The Junction Community Coffee Lounge. Join us as we celebrate the opening of our new coffee lounge and find out more about the new facilities and activities that will be available at Hedon Methodist Church.
This is a text block. Click the edit button to change this text.